Best Of The BBC On Netflix
Are you up for some Earl Grey? Would you care for some clotted cream and a scone instead of that Cinnabon? Do you sometimes find yourself apologizing when you haven't even done anything wrong? Or apologizing for not apologizing? ("Sorry, but I'm not going to apologize.") Would you like to trade up that Sam Adams for a Johnny Walker Black?
Well, if you're feeling the urge to cross the pond, or even return to your Colonial roots, the cheapest way is to tune into the BBC on Netflix (that's "British Broadcasting Corporation" for you anti-Anglophiles). The BBC is the world's oldest national broadcasting organization and the largest broadcaster in the world. It's also the place where U.S. entertainment producers turn to for ideas to spin-off into American-made television series and that's nothing new. All In The Family was based on a BBC show; Hell's Kitchen, House of Cards, The Office, Three's Company, American Idol, Shameless, Queer As Folk, Veep, Undercover Boss–all "borrowed" from our former landlord.
And for some reason, even though most of their programs are honestly good, the BBC seems to do an even better job at police and detective shows. Not a lot of shoot-em-ups, car crashes, or exploding city blocks but some really interesting characters and plot lines and some really first-rate actors.
Keep in mind that most of us are either going to have to listen carefully OR turn on the subtitles. Especially for the crime dramas which tend to have at least one or two characters with that whole "Cockney accent" thing going on. When I hear that, I can't help but think, "…and people from Boston think somebody from Nashville talks funny?"
You'd have to be living under a rock not to have heard of Sherlock by now. Sherlock is the modern version of the tales of Sir Arthur Conan Doyle's famous detective, Sherlock Holmes, and his sidekick Dr. Watson. In this version, the characters are in 21st Century London, the crimes are a bit more lurid, and the action is fast-paced, suspenseful, and witty. Benedict Cumberpatch, owner of one of the greatest "British-sounding" names in history, is immediately likeable and dislikeable as Holmes and Martin Freeman (the little guy from those really awful Hobbit movies) is probably the best incarnation of Dr. Watson to ever hit the stage or screen. I can't imagine you haven't given this a try, but if you haven't, please do. And for those who are fans already, check out Unlocking Sherlock, a look behind the scenes with the actors and writers–also streaming on Netflix.
Imagine Sherlock Holmes with Mel Gibson's temper and a female Hannibal Lecter to help him while he solves ever murder ever committed by Dexter. With a British accent. There you go–Luther. I've been watching Idris Elba, who plays Detective Chief Inspector John Luther, in movies and TV shows since the mid 1990's and I didn't even know his name until I watched Luther. Yet for some reason, he was immediately recognizable which tells me he's made this character his own and you can see from the first 15 minutes of the first episode that this guy is a powerhouse. Ruth Wilson plays Alice Morgan, a brilliant psychopath and murderer (sound familiar?) Luther is unable to convict of any crime due to lack of evidence–yet she gradually becomes his confidant, his companion, and a permanent thorn in his side. Just watch episode one–that's all it'll take. You'll be hooked.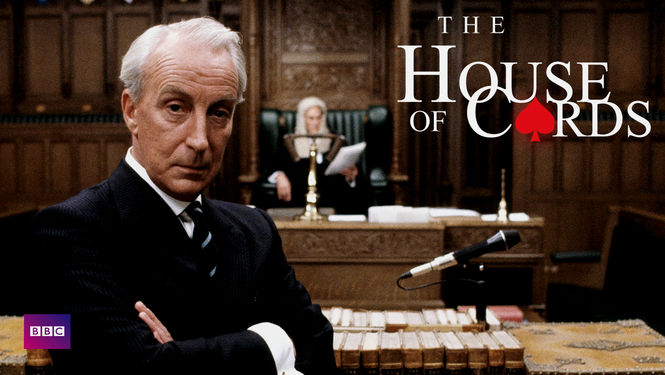 Before Frank and Claire Underwood began taking their revenge on Washington politics and politicians, Francis Urquhart was plotting and scheming his way to the job of Prime Minister in the Houses of Parliament. Although the politics are a bit unfamiliar to non-Brits, if you can't get enough of Francis Underwood you really should give Francis Urquhart a try. The story is the same–Francis expected to be rewarded for his political ties and support, he got screwed, and he pulls out all the stops to get even and get his just deserts. You don't have to dedicate your life to this series, either: four one-hour episodes and you're in and out. And if everyone spoke with the diction of Francis Urquhart (Sir Ian Richardson), it would be a better world.
I'd watch the BBC version of The Office just to hear Ricky Gervais laugh, but what this mockumentary really does is make the most of embarrassing situations and capitalize on every quirk in every co-worker you've ever had. If there's one thing Ricky Gervais is good at, it's making comedy out of something that should really make your skin crawl and that's exactly what his character, David Brent, does when he's aping for the "BBC documentary crew" that's filming the goings-on in the offices of the Wernam-Hogg paper merchants in Slough, Great Britian. If you work in an office… if you've ever worked in an office… you need to see this show. And then find yourself a new line of work.
Auschwitz may very well be the best documentary ever made. It's not a re-creation, it's not interviews with historical figures, it's not location shots and computerized graphics… it's all of these things–cut together brilliantly to give the viewer a true in-depth look at one of the most horrible incidents in modern civilization. Using every imaginable theatrical method and advancement to re-tell the story of the "Final Solution" from its inception to its culmination in the Death Camp at Auschwitz, this documentary should be mandatory viewing, especially for anyone planning to vote in the upcoming U.S. presidential election.
There you have it. Five of the Best of the BBC. After you've checked these out, bought yourself a houndstooth cap, given up on the dentist, and started driving on the wrong side of the road, you might also try: W1A, The Detectives, Fleming, Ripper Street, Copper, River, and Wallander. Or just go to the Netflix search page, type in BBC, click on anything, and… Bob's your uncle.
Don Gillette's latest book, Old Leather, is available at booksellers and on-line retailers everywhere.
War Movies on Netflix- The Good, The Bad, The Ugly
By Don Gillette
War movies are a real niche genre. For veterans, male and female, the movies have to be right around 100% realistic or we start yelling at the screen. If we hear somebody say, "Over and out" on the radio, it sends us into a wall-punching fit (you're either "over" or you're "out" but never both.) For men who never served in the Armed Forces, it gives a taste of what it might be like in battle, but with a bag of chips and a beer on the table next to the chair—nothing wrong with that. Not everybody is Audie Murphy. For women who never served… well… to be honest, I don't know any non-veteran women who actually like war movies unless they happen to be married to a veteran and even then, it's iffy. Before the hate mail shows up, I'm sure there are women who love war movies and don't fit into that category. I just don't know any.
Netflix has quite a selection of war movies currently streaming. Some of them are great and some are dogs; this might help you decide how to spend your evening if you're in the mood…
The Good:
One of the greatest war movies ever made, The Longest Day tells the story of the D-Day invasion of Normandy that led to the end of World War II. Although it's an all-star cast headed by the likes of John Wayne, Richard Burton, and Henry Fonda (among others), the movie is so gripping that you don't even notice who you're watching because they all become their characters. This is a long film—3 hours—but well worth your time. If you've ever wondered why they call the folks from this era "The Greatest Generation," watch this film and you'll know.
This is the story of the 1st Battalion, 7th Cavalry's battle against the North Vietnamese Army in La Drang valley in 1965—the first battle of the Vietnam War. Mel Gibson does a super job as Lt. Col. Hal Moore, the battalion commander, and the re-telling of the operation along with the battalion's training and preparation are right on the money. Equally interesting are the back stories of the wives and families of the combatants. They got this one right—there are no heroes, no glorification of war; just a story of guys doing their job and the families they left behind waiting.
An outstanding war movie that will have you shaking your head constantly at the blunders and mistakes the United States made that allowed the brutally savage Japanese attack on Pearl Harbor to occur. This film tells the story from both sides and is almost "documentary" in style, but that does nothing to detract from the dramatic and gut-wrenching attack scenes. One of the great history lessons every committed to film, this powerhouse explains the stupidity of countries going to war better than almost any other movie out there.
This is "Patton" in the air. Gregory Peck plays Brigadier General Frank Savage, the meanest S.O.B. to ever fly through the sky. He takes over a demoralized, resentful, slipshod B-24 squadron and whips them back into shape by being a hard-ass; but underneath, we get a glimpse of the emotional and psychological cost of command. Based on the 306th Bomber Group (the first American bomber group to fly over Germany), this movie is a nice glimpse into how the air war was conducted.
Nobody cares that Mel Gibson turned into a flaming asshole over the past few years because he was William Wallace, Colonel Hal Moore, Mad Max, Fletcher Christian, Martin Riggs, Bret Maverick, and Benjamin Martin. And you do not want to piss any of these guys off. In Braveheart, when his secret bride is murdered by an English soldier who tried to rape her, William Wallace starts a revolt against King Edward I of England. No, it's not completely, historically accurate; no, it's not a history lesson. But it's action-packed and has every element you should look for in a war movie including one of the greatest battle scenes every put on film.
Quentin Tarantino hit another one out of the ballpark with this masterpiece. The real Inglorious Bastards were a British commando force of Jewish exiles from Germany and Eastern Europe who operated as spies during World War II. Chances are good that this film is 99% fiction, but nobody does violence, characters, and plots like Tarantino when he's in the zone and he's definitely in the zone with this one.
The Bad:
I'm not going to waste your time giving you links to these turds–just pass them by.
Jarhead 2
Jarhead with Jake Gyllenhaal and Jamie Foxx was a great movie. Jarhead 2 with a couple of guys I've never heard of was a joke.
Seal Team 8
Poor old Tom Sizemore can't catch a break or a good role in a decent move. I guess it's tough to play a convincing member of a Seal Team when you're 55 and you look like you're 90.
Saints and Soldiers: The Void
An extremely low-budget, preachy attempt to inject racism into a World War II tank movie. There are no racists in foxholes. When you're being shot at, you don't care what color the guy next to you is.
The Ugly:
Field of Lost Shoes
Laughable.
Day of the Siege
Makes you wonder what F. Murray Abraham was thinking when he signed on to this. Probably "$$$."
Boys of Abu Ghraib
One of the truly stupidest war movies ever made and completely inaccurate in every way.
Fortress
I wanted to like this because it's based on actual events concerning an Irish-American B17 bomber crew, but I didn't.
---
"The Good" are films you really should see. I don't mean to sound preachy, but they should be mandatory viewing for anybody who thinks war is fun and for anybody who glorifies war without ever having been in one. "The Bad" aren't really awful—they're just not… good. But "The Ugly" are truly ugly, so don't waste your time.
Don Gillette is a novelist from Nashville, Tennessee who also spent 25 years in the US Armed Forces. His latest book, Old Leather, is a collection of short fiction and is available world-wide at booksellers and on-line retailers.
The Best Movies On Netflix – Official 2016 Guide
Welcome to the 2016 official guide to the Best Movies On Netflix presented by Whats On Netflix.   In the next 50 pages we will cover all the top movies available for your streaming pleasure.
Make sure you keep this page bookmarked as Netflix updates its streaming library monthly some movies might not be available.
If you come across a movie that's unavailable please be sure to reach out to us on social media so we can update the list. We will do our best to keep it updated but after all we are only human.
Now without further ado here our Official 2016 Guide To The Best Movies On Netflix. If you feel we left a movie off the list feel free to let us know down in the comments!
Release Year: 2012
Director: Justin Schwarz
"Simple, dialogue driven, performance driven stories about quirky families who end up in a kind of crazy crisis,  they all re-connect while trying to deal with the situation they're in. Been done a hundred times before, right? A few of these movies actually succeed in telling this kind of story though, and are fairly good. Little Miss Sunshine comes to mind. This film isn't as good as that one, but nevertheless it's still a good offering within that kind of genre."
Release Year: 2014
Written by Jon Stewart (Based on the book They Came For Me by Maziar Bahari and Aimee Malloy)
Directed by Jon Stewart
Starring Gael Garcia Bernal, Kim Bodnia
"Brilliant! A great show of force by the Jon Stewart in his 1st direction of a major motion picture! The actors were wonderful and the plot and script was complex and a story that needs to be told that the Iranian/Persian people are fighting back within the country against the government. Mr. Bahari's story was one of many & I am thoroughly happy & impressed the Jon Stewart decided to bring attention the Persian peoples fight for democracy in his first film! Highly recommend especially for the uneducated because the mainstream media surely won't expose you to stories such as this in the country Iran."
Release Year: 1974
Directed by Roman Polanski
Starring Jack Nicholson, Faye Dunaway, John Huston 
With a suspicious femme fatale bankrolling his snooping, private eye J.J. Gittes uncovers intricate dirty dealings in the Los Angeles waterworks and gets his nose slashed for his trouble in director Roman Polanski's complex neonoir classic.
Nicholson saunters though a 1930's LA with confidence, until he pulls the wrong thread and find himself in the middle of a messy unraveling. Although just as entwined, Dunaway proceeds with caution and finds herself torn between the lies and the truths surrounding her life. Together, the pair light up the screen with coy smiles and excellent senses of style, timing, and tone. The story was basic but kept my attention, much like HBO's "True Detective"- you witness the lengths a snoop will go to solve a case while taking in glances at his own personality. This film is smart, slick, and suspenseful. Highly recommended.
Release Year: 1997
Directed by Gus Van Sant
Starring Matt Damon, Robin Williams, Ben Affleck, Stellan Skarsgard, Minnie Driver
Horror Films To Watch On Netflix – Part Two
By Don Gillette
Whew…
Good thing I didn't try to review "Chick Flicks" or I never would have finished this little epistle. There are a million of those on Netflix, but still only 42 horror movies. My last column ran through the first 21 and here are the remaining 21 horror films streaming on Netflix:
Not really a horror film, but it shows up when you look for "Horror" on Netflix. I'm a stickler for accuracy, so I have to include it. Having said that, though, it really is frightening, scary, and creepy that this film ever got made because it's the stupidest waste of celluloid I've ever had to sit through. I can't give you a plot synopsis because there is no plot. Depending on your sense of humor, you'll either love this or hate it. If your sense of humor stopped developing when you were 7, it's your cup of tea. Yes, I know I'm not rating Oscar winners or documentaries about the Holocaust–but this thing was neither scary nor funny. It was just bad.
A family traveling in Colombia gets in a traffic accident and they hole up for the night in an inn. When they hear activity in the basement, they go down there and free a girl who was trapped inside. Surprise–the girl is an evil spirit. The Damned, also known as Gallows Hill is a pretty good horror movie; it's formulaic, there are some good scares, the acting is decent, and it's plenty creepy. Usually I avoid movies that were "also known as" because normally this means, "this was a shitty movie so we changed the title hoping you wouldn't notice," but on a dark and stormy night, you might enjoy this one.
If you're reading this particular column, you're probably a Stephen King fan. If you're a Stephen King fan, you might remember his short story "Gramma." This film is based on that story and it's an okay bit of horror. The premise is easy enough: a single mother and her two sons help take care of their grandmother who just happens to have mystical powers. This one's not going to make anybody's "Top 10" list, but the acting is solid (and there are some great actors in the ensemble) and it's good enough for a watch. (By the way, there's a Twilight Zone episode called "Gramma" that does the same story in 45 minutes and it's better).
The first Halloween team, Debra Hill and John Carpenter, also wrote this one, so you can put any memories of Halloween XXVII, etc., out of your mind. It's old home day in Haddonfield, Illinois: Donald Pleasance's Dr. Loomis, the psychiatrist who wants Michael Myers dead; Jamie Lee Curtis' Laurie Strode (well, actually her daughter), and even little Tommy Doyle, the kid Laurie was babysitting in the original, are back. Six years after Michael Myers' last outing, he comes back to Haddonfield looking for his niece (that'd be Laurie's daughter) who escaped from him (after she gave birth to his kid). So not only is Michael still a homicidal maniac, he's into incest. If you're a fan of the Halloween series, you'll enjoy this. They should have stopped after this one.
A few years ago, a guy was wrongfully convicted of murdering his two daughters. The daughters haunt the town where the crime took place. Sounds very simplistic, but it makes for a good ghost story and they're hard to come by. A good, rock-bottom, ghost story is actually a rare thing. No devils, no hell hounds, no Ouija boards… just a couple of murdered girls who won't lay down until justice is served. Give this one a try; you won't be disappointed.
Okay, I'll make it quick. A real estate agent meets a crazy girl whom she thinks is the runaway daughter of a couple whose house she's selling. The movie is 10 or 12 little stories that don't quite synch up. Your best bet is to move rather rapidly along. I watched this for you–life is hard.
The funny thing about Exeter is that it announces it's "…from the director of Friday the 13th and The Texas Chainsaw Massacre…" but the truth is it's from the director of the remakes of Friday the 13th and The Texas Chainsaw Massacre—the two worst remakes in the history of horror films.
A group of teenagers, throwing a drug party in an abandoned insane asylum (always a good idea), decide they'll fool around with the occult. When they're possessed by evil spirits, they're only slightly more amusing than they were when they were just drug-addled teenagers throwing a party in an abandoned insane asylum.
This movie isn't scary, but it's gory. If that's your thing, you might want to give it a shot. Could it have been better? Well, yeah–but Ben Affleck is Batman. Hollywood's lost its mind. Next up–Jesse Eisenberg as Muhammad Ali.
Pretty cool.
Tired of all the semi-haunted houses that crop up around Halloween, five friends take off in an RV in search of the real thing. Just when they're about to give up, things start happening and they figure out the haunt has come to them.
It's a "found footage" type of film and I think we're all getting a little tired of them, but overall, this is a good ride. The acting is better than you'd expect for a "B" movie, the plot line is more original than most, and the scenes in all the haunted houses are a lot of fun.
A masterpiece. This movie was out for 5 years before I watched it because I thought it would be stupid. It was brilliant.
Tucker and Dale are just a couple of lovable West Virginia "good ole boys" who head out to their dilapidated vacation cabin to drink beer and go fishing. A group of hipster college kids run into them and just assume that Tucker and Dale are in-bred, murdering psychopaths.
It's a horror film/comedy/cult classic that should be required viewing for anybody who's ever watched The Evil Dead or Deliverance or Shaun of the Dead or Zombieland or Tremors or any of a hundred others. My idea of a good weekend would be to hang out with Tucker and Dale.
Hmmm.
I just watched it (for this column) and it was most cool. When she hits 16, Lisa finds out she's stuck in time living the same day over and over again a' la' Groundhog Day. Pretty soon, she figures out that she, her parents, and her little brother are all dead and trapped in the day they were murdered. Lisa discovers that she can contact people—people who are also victims of the killer in the past and the future. She learns the killer's name (Oscar–go figure) and sets out to find a way to stop him.
Is it really a horror movie? No… it's more of a thriller where most of the characters are dead people; a ghost story with bizarre turns and twists. Thoroughly enjoyable and highly recommended.
Another "found footage" movie that tosses too many slices of horror movies at you to come together in a package.
Somebody hired a group of morons to burglarize a deserted house in the country to find a rare VHS tape. What they find are a bunch of old television sets, a dead body, and some film clips that show gory and ghastly imagery. This film tries to be an anthology tied around a central story, but it doesn't quite make it.
It's definitely worth a look, but it's no Frankenstein.
Interesting, but a little claustrophobic.
A girl studying the habits of webcam chat site users watches a horrific murder one night during her research. When she, her family, and her friends, are targeted by the murderer, she gets more involved in the webcam chat scene.
Most of this film takes place on computer monitors, cameras, and cellphones and although that's annoying, it adds to the suspense.
Well worth a watch, The Den is another "found footage" film, but not as bad as most.
A deeply disturbing horror and revenge film—and highly recommended.
In the Balkans in 1996, the population of a small town is slaughtered by the militia. A young girl, Angel, escapes death, but is taken by the commander and put to work caring for the girls of The Seasoning House, a brothel of drugged and kidnapped young girls who are prostituted to the military. Angel isn't quite pretty enough to work as a whore, so she finds ways to move between the walls and crawlspaces in the house to help the other girls–and in so doing, she sees more than she's intended to see. When the men who murdered her family show up, her revenge begins.
Doesn't sound like a horror movie, does it? Give it 15 minutes and get back to me on that.
Two American girls go on vacation in the Mediterranean and discover the hideout of a killer mermaid.
I'm sorry… I really am… I tried to watch it. Got 30 minutes into it and my neck got sore from shaking my head. I was afraid if I screamed at the TV one more time, my wife would call "the people" and have me taken away.
I don't like these films that try and blend the movie with reality. And I don't like it when a cult figure like Wes Craven has to have his name stuck in front of the film's title to get somebody to watch it. But…
On the 10th anniversary of A Nightmare On Elm Street, Heather Langenkamp (who played Nancy Thompson in the original and is now playing herself in this one) starts getting phone calls from Freddy Krueger. When her husband (yes—her real husband) is killed in a car accident and is found with slash marks on his face, Heather begins to suspect something. (Really?) She discovers that Wes Craven is writing another "Nightmare" movie and somehow they figure that Heather has to play Nancy one more time in order to defeat Freddy.
If this makes you want to grab your head and yell "Son of a bitch!" as loud as you can, I understand, but surprisingly enough, this is a good horror film. If you enjoyed A Nightmare On Elm Street, you've got to see this.
I'm not going to lie to you—I watched this film about 2 years ago, I liked it, and I'll be damned if I remember why.
It's the story of a woman who comes home, with her daughter for the funeral of her mother, moves into her mother's house, and discovers that her mother's ghost is still hanging around. The mother wasn't what you'd call a nice person, either. As the story progresses, the woman and her daughter vanish and it's left up to her sister to discover the dark secrets in the family's past.
I know it sounds hokey, but it was terrifying. It starts slowly—regular haunted house movie—but it turns into a really great, low-budget excursion.
If you read the previous column which feathered The Human Centipede 1, then you know it wasn't the greatest of movies. Imagine what they've done to it with two sequels. And this one's got poor Eric Roberts in it, too. I like that guy—Julia Roberts' brother–he's a good actor. I don't know why he picks such idiotic parts in such idiotic movies.
In this steaming pile, Eric Roberts plays the Governor of Someplace. A prison warden is trying to gain the governor's approval by coming up with the best punishment in the universe for prisoners. The best he can come up with is sewing inmates together ass-to-mouth.
I didn't want to watch it, but I did—mostly on fast forward. Trust me–you won't want to watch it, either.
A girl contracts a sexually-transmitted disease… or that's what she thinks she's got. It ends up being something a lot worse, but whatever it is, it couldn't be as bad as this truly, truly horrible movie.
The first clue that a movie's going to be bad is if the Director and the Writer are the same person. I've figured this out over many years of reviewing movies. If Eric England is the director and Eric England is the writer, you're in for something stupid. If Eric England or his wife or his kid is also in the movie, you're in for something infinitely more stupid. I think Eric England's entire family must have been in this one.
Just walk away.
A cameraman answers a Craigslist advertisement for a one-day job in an isolated mountain village and when he arrives, he discovers his boss is a little bit on the strange side.
This is another "found footage" film and as soon as that stops, I'll be a lot happier with the horror genre, but this one is actually good. It's full of tension, very well-paced, and sort of takes the whole "stalker" thing to another level.
I predict this will become a cult classic in a few years—watch it now so you can nod your head knowingly at parties and say, "I saw it years ago."
Always nice to end on a high note and they don't get much higher than Anthony Hopkins.
Father Lucas (Hopkins) is an eminent Jesuit priest who has performed several exorcisms in the past. His newest student, Father Michael, has come to him in the hopes that the older, experienced priest can help him strengthen his faith. Father Lucas is a bit of an oddball, but when his exorcism of a 16 year old girl fails and the demon that was inside the girl finds another host, it's up to Father Michael to fight and destroy the evil.
Sure, it's hackneyed, but it's not "just another exorcism movie." It's a good one.
So there you have it – all 42 horror films streaming on Netflix in two concise, little bundles.
And here we are in spring with summer looming ahead; hours and hours of sunshine each day, hot weather, and Halloween is months away…
But if you happen to awaken in the dead of night, no birds singing, no kids outside playing, thunderstorm crashing and banging outside, and you're feeling the need for a little scare, dive right in.
The water's frigid, the lightning is flashing shadows against the mirror, and you might have forgotten to double-check the front door before you went to bed. What to do, what to do…
Don Gillette writes thrillers, horror, and dark literature. He is the author of three novels, a dozen volumes of poetry, and hundreds of short stories and newspaper articles. His latest book, Old Leather, is a collection of short fiction available world-wide at booksellers and on-line retailers.